New Smile is dental treatment for children and adolescents according to the most modern international standards, using all advanced and effective methods.
We create an atmosphere of comfort and trust so that little patients feel safe and trust our fairies to treat their teeth without fear.
Coming to the reception, the child watches cartoons, gets to know our fairies, and always gets a present! Therefore, all children who underwent treatment at New Smile automatically become participants in the Dental Health Monitoring Program.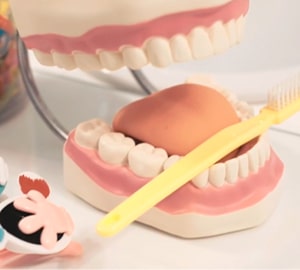 Professional hygiene
Timely professional prevention is the key to healthy dental development. Professional teeth cleaning can be prescribed for children from about 2.5 years old — at this age a milk bite is already formed. This is necessary when we observe tartar deposits, soft and hard plaque, and gum disease. Before the procedure, the dentist conducts a thorough examination and prescribes the optimal type of cleaning.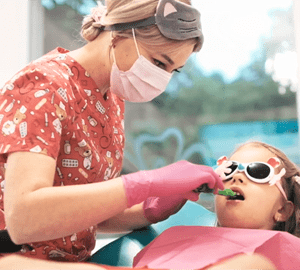 Mineralization of teeth
A feature of milk teeth is a thin, insufficiently formed layer of enamel, which cannot fully resist the formation of caries. As a therapeutic and prophylactic procedure for strengthening milk and molars, teeth mineralization is widely used in pediatric dentistry.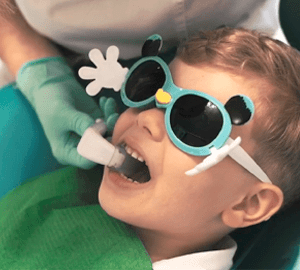 Correction of malocclusion
The Dentistry Center offers a number of modern and effective methods for correcting malocclusion: plates, trainers, fixed devices, early age braces, custom-made dental guards and many others. All these techniques will allow you to correct the malocclusion even before adolescence and reduce the time of treatment with braces. In some cases, early treatment and getting rid of bad habits allows you to complete the course of treatment before the final change of the milk bite. The teenager will enter the time of growing up without complexes, attracting friends with an open and healthy smile.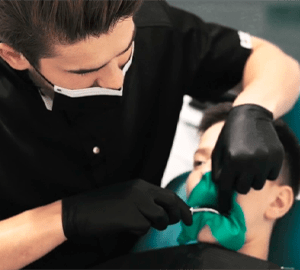 Filling of primary and permanent teeth
Our main goal is to completely cure, stop painful processes, and preserve teeth as much as possible. It is not difficult to cure a child's tooth, how to inspire confidence in a child, and for this you need to have real talent and love. A sensitive and attentive attitude towards each patient, a playful form of communication and a soft, disposing atmosphere will help the child forget that he is at the dentist and fall in love with the treatment of teeth.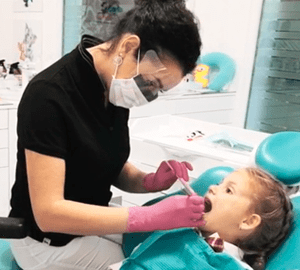 Tooth extraction
The permanent tooth is already cut and the milk is still not falling out (the roots of the tooth have not dissolved, or have not dissolved enough)
milk tooth delays the eruption of a permanent tooth, or does not allow it to erupt correctly;
the tooth has seriously suffered from periodontitis, a fistula has formed on the gums;
severe injury does not allow to leave a tooth;
a loose milk tooth can also be removed. For example, when it brings discomfort to the baby and injures the gums.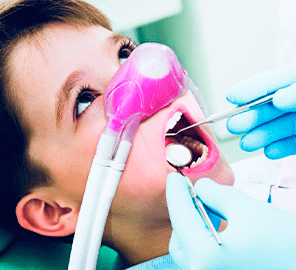 Dental treatment while sleeping
We are the first dentistry to introduce dental treatment in Chervonograd under general anesthesia. Today we have the largest experience in dental treatment under general anesthesia in our region. Modern drug sleep, carried out without complications, does not have any harmful effect on the body. We manufacture all types of general anesthesia in dentistry.